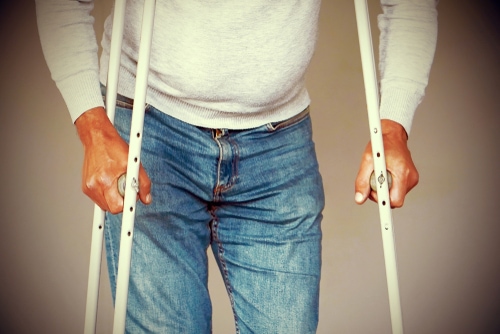 Hip Fractures: How to Prevent and Treat Them
The hip fracture: it may seem like a mild injury. In truth, it can be incredibly dangerous. Each year, more than 300,000 Americans ages 65 and older are hospitalized due to hip fractures. Even worse, these hospitalizations can lead to numerous other complications, like treatment-resistant infections and pneumonia.
When it comes to hip fractures, an ounce of prevention is worth a pound of cure. Here's what you and your elderly loved ones need to know about preventing hip fractures both now and in the future.
How Hip Fractures Happen
According to the Centers for Disease Control and Prevention (CDC), more than 95% of hip fractures are caused by falling – typically by falling sideways. While women experience three-quarters of all hip fractures, both men and women fracture their hips for many of the same reasons.

Ice, uneven ground, household obstacles, and interference by pets and kids are the primary culprits. The risk of hip fractures goes up with aging – doubling with every five-year increase after the age of 50. By 90 years old, one in four women and one in eight men have fractured a hip.
Preventing Hip Fractures
Since hip fractures are so painful and difficult to recover from, it's smart to be proactive about preventing them from happening in the first place.
Here are a few ways to do just that:
Work With Your Doctor
Your healthcare provider is your primary line of defense when it comes to hip fractures. A doctor will educate you about your risk of falling and ways to avoid incidents. The doctor should review all the medications you're taking to ensure there are no interactions between them that could cause dizziness or fatigue.

Finally, a doctor will screen you for osteoporosis and recommend a Vitamin D supplement to strengthen bones and improve density.
Stay Fit
Strength and balancing exercises (like moderate weight lifting and yoga) will both go a long way to prevent hip fractures. According to studies conducted and published by Harvard Health, just twelve minutes of yoga practice each day is enough to reverse and prevent osteoporotic bone loss.
If yoga isn't your thing, turn to other exercises like walking, strength training, or swimming to maintain your range of motion, improve stability, and prevent injury.
Make Your Home Safer
In-home obstacles are a significant factor behind many hip fractures. It's tough to stay safe, for example, if you're always worried about tripping over loose carpets or slipping down the stairs. With this in mind, here are a few simple tips to make your home safer:
Get rid of items you could trip over – clutter is a primary culprit
Add grab bars to the bathroom, specifically on the sides of the toilet and the outside of the shower or bathtub
Add railings to both sides of the stairs to prevent slipping
Increase visibility by adding more lights throughout your home
Rehab Old Injuries
If you've suffered a hip fracture in the past, proper rehabilitation is critical to preventing it from happening again. An excellent rehabilitation facility will offer the occupational therapy (OT) and physical therapy (PT) you need to get stronger. If you live in a nursing care facility, tell the staff about your old injury (Assuming it did not happen at the facility). They'll be able to put together a recovery plan that works for you.
Looking for a healthcare and rehab center for education and recovery services? Contact Senatobia Healthcare today to learn more about our programs and offerings.