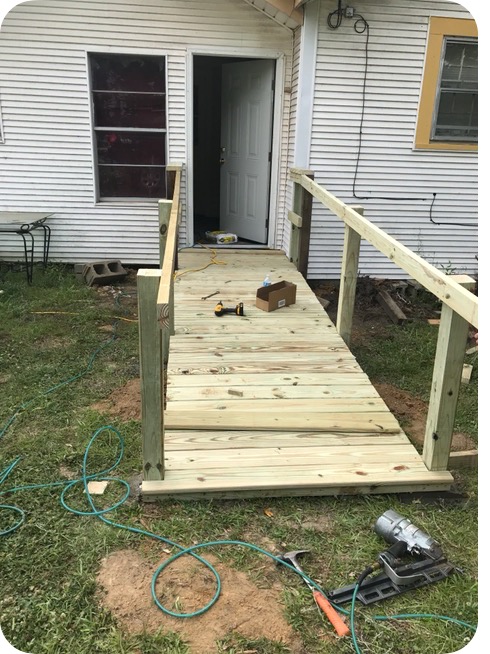 Dreamcatcher Program Fulfills Dream of Senatobia Healthcare & Rehab Resident
When Beatrice Milam was ready to return home after a stay at Senatobia Healthcare & Rehab, she faced a new challenge: the front steps of her home. The Dreamcatcher Program at Senatobia rose to the occasion and organized a community-wide effort to help Milam overcome this obstacle.
At Senatobia Healthcare & Rehab, we work hard to help our residents regain as much independence as possible. We show them ways to adapt to new challenges and overcome physical limitations. While our team of rehabilitation specialists helped Milam regain her mobility by using a wheelchair, those steps seemed like an insurmountable challenge.
Adding a wheelchair ramp to her home was the obvious solution, but Milam did not have the resources to make it happen.
"I didn't know how I was going to get one," said Milam. "I thought there was no way I would be able to go home."
The Senatobia Dreamcatcher Program Steps Up
Milam's situation is exactly the sort of challenge for which the Dreamcatcher Program was designed. Senatobia Healthcare & Rehab started the program to identify the unfulfilled dreams of its short-term and long-term residents. The program matches these residents with individuals and organizations in the local community to help make their dreams come true.
Senatobia's Laurie Billingsley, a Dreamcatcher team member and licensed social worker, got right to work raising funds and gathering supplies. Two local churches — Olive Branch Fellowship Church in Olive Branch and First United Methodist Church in Senatobia — were major contributors to the effort. Local supplier Puryear Lumber also helped with a big discount on the necessary building materials.
Bringing it All Together
With the building supplies for the ramp taken care of, Senatobia Healthcare & Rehab owner Marty Parrish acquired a new door to help improve Milam's access to her home. All that remained was the time and effort needed to remove the old steps and build the wheelchair ramp.
A local man, who wished to be known simply as "A Guy with a Hammer," volunteered his carpentry skills to help Milam.
"If Ms. Beatrice says the only way she can go home is if she has a wheelchair ramp built on her house, then we're going to build her a wheelchair ramp," said the Good Samaritan.
A Joyful Return Home
Once the wheelchair ramp was completed, a relieved and excited Milam was finally able to go home.
"I am so grateful for Senatobia's Dreamcatcher team," Milam said with a smile.
At Senatobia, these are the moments we live for: when the work of many hands comes together to help our friends and neighbors live the life they deserve.
Senatobia Healthcare & Rehab: A Commitment to Caring
Senatobia Healthcare & Rehab is a 106-bed, fully-certified Medicare and Medicaid center offering award-winning post-acute, short-term rehabilitation services and long-term care. Contact us to schedule a tour of our skilled nursing facility in Senatobia, Miss., serving Tate County and the surrounding areas.
For more information about Senatobia's Dreamcatcher Program, please contact our Executive Director, Mark Tuggle, at 662-562-5664 or mark.tuggle@sccrsnf.com.